Hello,
I have a bare metal application that is supposed to boot from SD -Card. After spending many hours and going through many tutorials I am stuck at the same point.
The spl and the u-boot script u-boot.scr are executed. The FPGA is programmed correctly. However the application.bin is not executed.
When I load the application.axf via jtag the application runs normally.
This leads my to the conclusion that the error must be in the binary file, or in the provided entry-point. I tried many entry-points other than 0x0010_0040, eg. 0x0010_0000 (entry-point.axf), 0x0011_0990 (start-address of main) for which I get the error message "missalligned buffer address" data abort.!
Do I need to change the scatter file, or the entry-point settings?
The following printscreen summarizes my problem: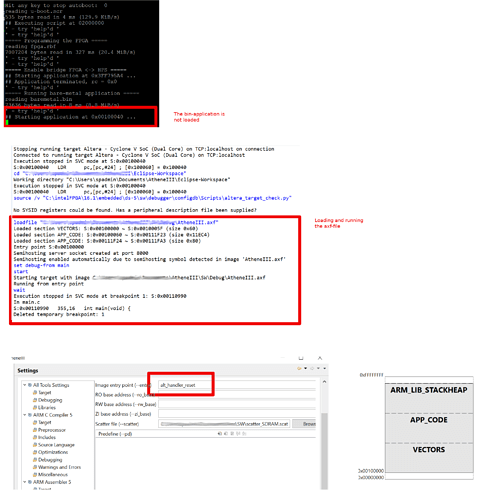 I would be really grate full for any tipps on how to get the binary running from the SD-Card.
Many tips I already got from the useful blog of Ânderson Ignacio da Silva:

Many thanks and all the best to you all