hey there
I'm working on a project that requires to reconfigure fpga from linux without rebooting the OS.
my kernel version is 4.1.33-ltsi-altera
I'm trying to load a simple qsys fifo rbf file using method below:

At first Linux got stuck and then rebooted when i was trying to run the configuration program and i figured out that removing the boot service located at "/lib/systemd/system/de10-nano-fpga-init.service" would solve the problem and the configuration program seems to run without any errors, but when i run devmem to access the fifo address (ex. 0xff200000) the os gets stuck and reboots.
i have no idea what causes the problem and here is my sof to rbf configuration with compression check enabled: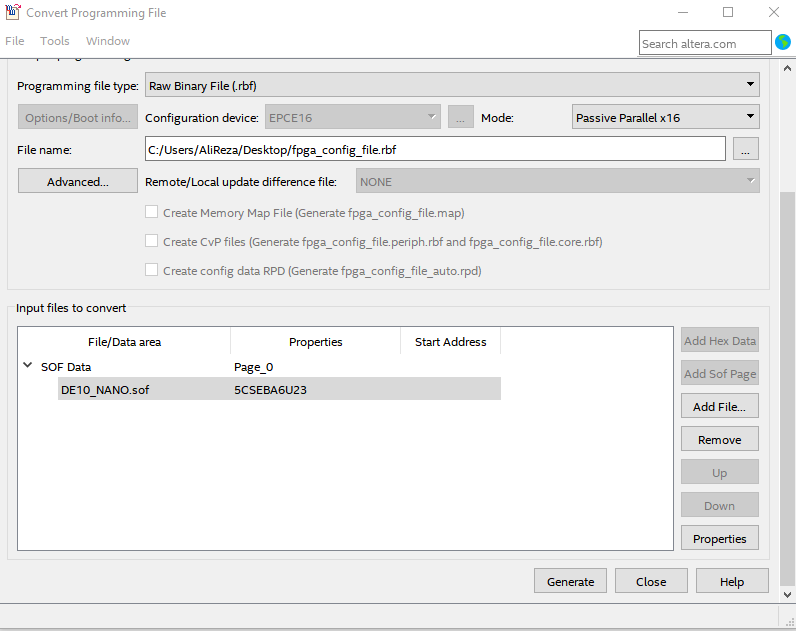 here is configuration program output:
---
MSEL Pin Config… 0xa
FPGA State… User Phase
cfgwdth Register… 0x1
cdratio Register… 0x3
axicfgen Register… 0x0
Nconfig pull reg… 0x0
CONF DONE… 0x0
Ctrl.en?.. 0x0
---
Turning FPGA Off.
Setting cdratio with 0x3.
Turning FPGA On.
Loading rbf file.
EOF reached.
---
MSEL Pin Config… 0xa
FPGA State… User Phase
cfgwdth Register… 0x1
cdratio Register… 0x3
axicfgen Register… 0x0
Nconfig pull reg… 0x0
CONF DONE… 0x0
Ctrl.en?.. 0x0
---